Let's just step into the buyer's shoes for a minute. Say, you're looking for a bluetooth headset online. Now, how many possible shopping platforms do you have? Amazon? eBay? Jet? Rakuten? Etsy?…the list goes on. You'll obviously look for the product on multiple platforms until you find the best deal. Do you see what this means for you as a seller? Consumers are shopping from multiple platforms. If you have an eCommerce store of your own, it's not enough. You need to be omnipresent across multiple sales channels and marketplaces to strengthen your online presence, reach, brand exposure as well as brand awareness.
This will make sense to you once you have some facts to go through. According to an omni-channel retailing study conducted by BigCommerce on 3000 Americans, about 74% shop at large retailers, 54% shop at eCommerce marketplaces, 44% shop at web stores and about 36% shop at category-specific online retailers.
Multichannel eCommerce has become quite the rage now. And that's no wonder since it is one of the most effective ways for the sellers to grab maximum selling opportunities. The greater your presence, the more are the chances of your items getting sold. Well, this is just one of the benefits of multi-channel retailing. Read on to know some more.
How multi-channel retailing benefits the online sellers
Consumers are getting smarter, thanks to the handy mobile devices that let them browse through multiple sales channels in absolutely no time. As a seller, you need to increase your reach. Here's how multi-channel retailing lets you do that:
Reach customers at all stages of their buyer journey
Convincing a customer to make a purchase is a task in itself and a difficult one at that. But it won't be that hard once you understand the buyer journey and learn how to target the customer at each stage of this journey. If you're successful, you've got yourself a customer. Multi-channel retailing will help you do just that, and more.
Let's go through all the stages of a buyer's journey and see how multi-channel retailing fits into the picture:
1. Awareness:
To understand it better, let's take up an example of a virtual customer, Samantha.
Samantha's wrist watch just broke and she needs a new one.
Identification of Need – *Check*

Your prospect now knows her pain point. She needs a new watch. If you want her to buy one from you, she needs to know about you first, right? This means that you need to create some awareness.

Coming back to Samantha, she'll start with her research.

Research – *Check*

As this point, Samantha will want to start searching for a watch on multiple platforms. She won't necessarily be thinking about placing an order right away. She'll kind of stick to researching and gaining awareness via product descriptions, customer reviews, etc., you know, just to see what's out there.

Shortlist sellers – *Check*

Soon, she'll find a few listings that match her needs. So, she'll start prioritizing the listings she likes, which is the beginning of seller selection.

– This is where multi-channel eCommerce can do you some real good. As a customer researches a product across different channels, they find a number of listings. If you are omnipresent, chances of you getting noticed and securing a conversion are pretty high.
2. Consideration:
Now that Samantha has shortlisted a few sellers, she'll begin her research to narrow it down to a single seller. She'll take to in-depth research, maybe even raising customer queries. This is where your educational content will pay off. Publishing quality product content on all your sales channels that addresses all the buyers' pain points and possible questions will definitely help your sales
3. Decision
By now, Samantha has finally reached a decision. A seller that offers the right kind of watch, at the best price. Imagine that seller being listed on all major shopping platforms. The fact that the seller is omnipresent has ensured Samantha that it is indeed quite trustworthy. And so, she'll go for it.
So, that's how multi-channel retailing can be easily used to target a customer at every stage of their buying journey.
Get the most out of all marketplaces
Major shopping platforms are always competing for their fair share of the eCommerce market. While each of them has its own customer base and market position, you as a seller get the best of all worlds. Each platform has its own search algorithms that employ the use of artificial intelligence and machine learning to help the buyer land on the right listing. So, all you need to do is optimize your listing well for each platform and you won't have to worry about customer traction.
The next big question that might pop in your mind would be "What sales channels can I sell on?". Let's study each one by one.
Multi-channel retailing: Seller channel options
1. An eCommerce site:
As a brand, you must always have a dedicated shopping website of your own, one that allows easy customization and personalization so that you are able to provide just the right kind of shopping experience to your buyers. This will be the ultimate face of your brand. You can publish educational content in the form of on-page blogs on your website to address customer queries and increase your search engine rankings as well. To enhance your search visibility, you'll also need to optimize your product listings and your website. To ensure that goes right, you must pay special attention to product data entry and the use of appropriate keywords. You can also opt for eCommerce product data entry services to get professionals to do it for you.
2. Marketplace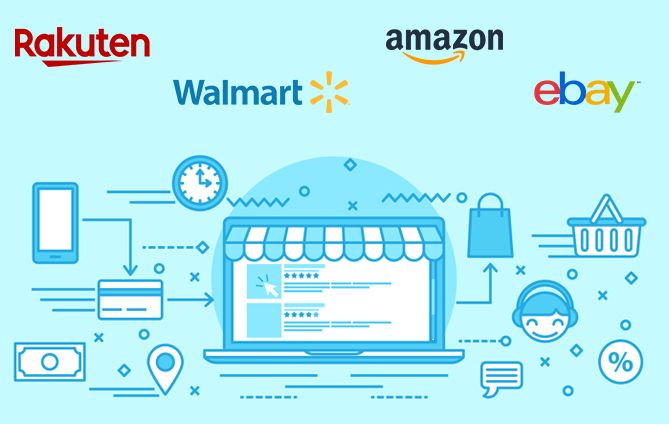 The next best place to be is a marketplace such as Amazon, eBay. Walmart, Rakuten, etc. that offers ample opportunities to the sellers and lets them connect with a good number of genuine buyers. In fact, marketplaces are great for buyers who already have a brand in mind and can be used to target the shoppers at the consideration and decision stage of their buying journey.
3. Comparison shopping engines
A great way to target shoppers based on pricing is getting your brand listed with comparison shopping engines. Some examples are Google Shopping, PriceGrabber, etc. that provide the shoppers with instant pricing information so that they can reach a decision quickly.
It's all about maximizing your reach and building a large customer base. And multichannel eCommerce can help you do that and secure a better seller reputation as well.
Let Data4eCom Be Your Omni-Channel Retail Partner
Not sure where to begin? Well, professionals at Data4eCom do. Get all the help you need regarding multi-channel retailing here. You can also avail our eCommerce product data entry services to get your products uploaded on multiple sales channels. Just write to us at info@data4ecom.com to get started.